''o'r|'R/'o'r|'U'`@@@\'P,800

With this unit, the hADONISh desktop microphone can use DC 13.8[V] as a power source instead of the UM-3 batteries.
The model PS-3 is for use of DC3[V] type and PS-6A is for DC 6v type microphones.

| | |
| --- | --- |
| PS-3@ | AM-308, AM-508E, AM-708E, AM-DX1, AM-DX2 |
| PS-6A | AM-7500E |
@
@


@PDF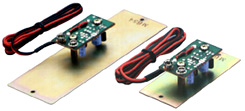 "ON AIR" Monitor
'OM-1
*When you set the ''ADONIS'' microphone connected to OM-1 to transmitting condition, the ''ON AIR'' indicator lights up in red color.
*Power Voltage : DC 13.8V+-10%
*Input Plug : 8P ''ADONIS'' terminal
*Output Jack : 8P ''ADONIS'' terminal
*Size : Indicator 50(W) x 13(H) x 13(D) mm
Main Body 50(W) x 35(H) x 25(D) mm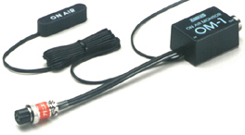 'TA-220
'HK-22
Radio-phone
Interface
Export only
Full Duplex Type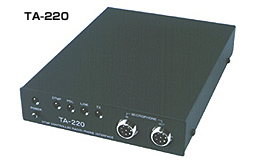 Microphone with 12keys
Voice Mixer for SSTV
'ST-12
*Character
SSTV signal is mainly used with over 1,100Hz. However, ST-12 is the adapter which can mix voice signal to SSTV signal with under 1,100Hz, and simultaneously send both kinds of signals by connecting between your using SSTV connecter and transceiver.
You can increase efficiency of QSO with this adapter, since you can simultaneously explain about Video Dates while
you are sending them. Even though other stations don't have ST-12, they can hear your voice and you can make a bread on sending Video Data.
You can avoid low-frequency jam, because SSTV RX Output Power of ST-12 constantly goes through HPF ( High Pass Filter ).
Especially when you use a simple converter for JVFAX or GSHPC or else, you can increase the Video Data Quality
which you receive.
Also, you can use ST-12 as Mic Switcher.
*Specification - Signal Method by Line Filter on 7th level -
< Input ( Mix Mode ) >
HPF : 1100Hz - SSTV Signal ( Gain=1 ) : Output to SSTV Connecter
LPF : ` 1000Hz Voice Signal : Output to SP OUT
< Output ( Mix Mode ) >
LPF : ` 1000Hz Voice Signal : Output to ACC Connecter
<Standard Spec. >
* Mic Input Connecter : ADNIS 8 Pins ( refer to the Diagram of ''MICROPHONE IN'' )
* SSTV Connecter Output : DIN 5 Pins ( refer to the Diagram of '' SSTV'' )
*ACC Output : DIN 5 Pins ( refer to the Diagram of ''ACC IN'' )
*SP Input, Output : ƒΣ 3.5 Mini jack ( 1 each )11
*Microphone Impedance : 500 ` 1K ƒΆ
*Speaker Output : 8ƒΆ, 2W
*Voltage : DC 12V` 13.8V, 200mA
*Size : 150 (W) x 165 (D) x 35 (H) mm
*Weight : Aprox. 800g
*Attachment : DIN 5 Pins Plug/2 pcs