Feature
Operation is very simple.

Only 20 seconds for measurement.

Compact and handy design for measurement.

It is possible to measure a part gas of nose or throat by plugging Refres HR into catheter.


Benefits

Refres HR enables you to measure a part gas of nose or throat besides breath and oral gas.
You'll be able to advise properly to patients who are suffering from bad smell of mouth and nose.
You'll be able to provide patients with objective data regarding breath and oral care.
Refres HR will draw clients' interests , bring about motivation to have their regular medical check-ups and in particular give satisfaction to clients.
Consequently, You'll be able to expect more clients to come to your clinic regularly by virtue of introducing Refres HR

Specification

Item

Specification

Sensor
High sensitive semiconductor gas sensor
Range of sensitivity
0`100 indication ( 0`200ppm H2 gas conversion )
Terms of use
Temperature 0`40Ž Non-condensation
Power supply
AC100`240V 50/60Hz Exclusive AC adaptor
Dimension/Weight
260~118~42mm / About 1Kg
Article constitution

Main body : Refres HR Instruction manual
Standard accessories: AC adapter Sterilization filter~3
Mouthpiece~10 Printer paper~2 Ink ribbon cassette~1
What's Refres value like?.
@Refres value indicates from 0 to 100.
@The value can be applied to clinical data.


( Oral Refres Value ).
@Oral Refres value is useful in estimating
@multiplication condition of bacteria.
@Normal OR value ranges from 30 to 40.
@The lower OR value is, the less the number

of bacteria becomes.
@If OR value becomes higher (ex. periodontitis ?), .
@it will be necessary to have medical care.


Original criteria for odor

| | |
| --- | --- |
| Value | Level of mouth malodor |
| 0`30 | No sense of malodor |
| `50 | Slightly sensing |
| `70 | Always sensing malodor |
| `90 | Malodor is apparent |
| 100 | Odor is heavy |
( Breath Refres Value )
@It seems that BR value is connected with the activity of intestinal bacteria.
@Normal BR value ranges from 30 to 40.
@Smoking or having a meal may cause higher value, especially drinking alcohol shows higher value.
@BR value differently varies in a day. Generally, low value may be given when you're hungry. You may get high value.
@ after a meal 2hours or so.
@There may be trouble in digestive organ ( constipation ? ) when BR value is always low.
@Also, there'll be problem in oral or other parts when high value is always shown.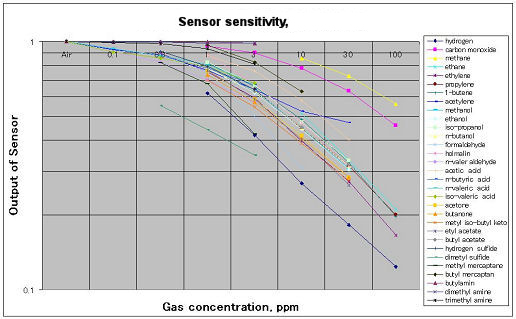 Odor Meter
'Refres@Model REF-101 \218,000


™ Many people feel their odor smell bad. REF-101 can offer objective evaluation.
What concerns about breath odor is on the rise.
REF-101 is simple in operation and is useful for medical treatment by providing a reliable evaluation of odor.


Features


REF-101 can measure breath and mouth odor separately by a fixed-quantity sampling method. ( Patent Pending )
Not loss of sample gas by sensor close to mouthpiece.
Odor tendency by total gas detection
Result indicates 3 digits and can be printed out.

Original criteria for odor
Value obtained
Level of mouth malodor
`'R'O
No sense of malodor
`'T'O
Slightly sensing
`'V'O
Always sensing malodor
`'X'O
Malodor is apparent
`'P'O'O
Odor is heavy

For your references to judging:
Gas sensitivity of Odor Meter, REF-101 is shown to chart below, which means that it can detect all ingredients in the breathsample, which may be differing from the odor level in your nose.