■AM-708E  \27,800
*Selectable for 2 sets of transceivers at once by slide switch.
*High Sensitivity Electret Condenser Microphone Element equipped.
*High Quality Compressor Amplifier ( High - Low selectable ) built-in. It sends out always constant and optimum level
without distortion regardless of audio input level.
*Equipped with FM/SSB Audio Quality Selector Switch for optimum operation.
The Electret Condenser Microphone ensure the clearer voice quality in FM condition and ensure the better voice quality in the SSB condition.
*Non-Modulation Prevention Circuit built-in.
After continuous transmitting for a few minutes, the alarm circuit will be activated with alarm sound for 30 seconds.Then, the condition returns to receiving mode automatically.
*Battery-Check Circuit built-in.
Turn the power switch on ( by selecting ''FM' or ''SSB'' position ), and the level meter indicates the battery condition with power voltage for a few seconds.
*Connectable with the microphone interconnecting cable provided with power feeding line. ( ADONIS terminal arrangement indicates it as ''B'' in the center of connector.)
*Usable with microphone cable equipped with power feeding line ( ''D'' series cables ).
*You can choose the power source from dry batteries ( UM 3 x 2 ) or transceiver ( microphone connector DC 5 - 9V/
20mA minimum).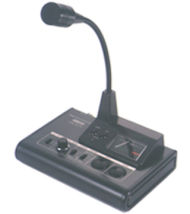 *Microphone : High Sensitivity Electret Condenser Mic.
*IC : 2 pieces
*Transistor : 20 pieces
*Diode : 13 pieces
*Compressor Level : HIGH : 45dB LOW : 35dB
*Output Voltage : COMP : 0 - 30 mV ( RMS ) MANUAL : 0 - 70 mV ( RMS )
*Matching Output Impedance : 500 ohms - 100k ohms
*Power Voltage : Battery : DC 3 V ( UM3 x 2 pieces )
Mic. Cable ''D'' series : DC 5 - 9 V
*Current Consumption : at Receiving : 3 mA, Transmitting : 6 mA ( approx )
*Alarm sound : approx. 4.5KHz Intermittent Tone
*Flexible ( Gooseneck ) Pipe : φ 8mm, ( Length : 150mm )
*External Size : 182 (W) x 130 (D) x 322 (H) mm
*Weight : approx 750 g ( Not included dry battery )


 PDF