■FX-6  \11,800
*Mobile Microphone with flexible gooseneck for safety operation over driving a car.
*PTT Switch whose shape is thin matches well the interior of a car.
*The flexible microphone should be fastened with sun visor when mounting.
*TX/RX Switch (PTT Switch) is available for mounting with the all kinds of gear-shift lever in the car including the shift lever for automatic type.

*Provided with the Non-Modulation Prevention Circuit with alarm sound and Microphone Output adjusting function.
*Equipped with UP/DOWN switches and LED Transmitting Indicator.
*Connectable with each transceiver available in the market by the
Microphone Interconnecting Cable optionally available.
(Please see the list of cables.)
*Available for direct connecting with the Interconnecting Cable provided
with Power feeding line, which enable to get the DC power from transceivers.
*The power feeding can be done from both mobile battery(DC12V) and the
microphone connector of transceiver. (The ''D'' Series Microphone Interconnecting Cable are provided with the power feeding line.)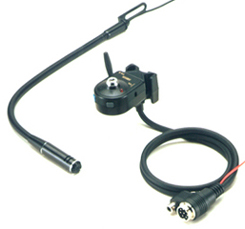 SPECIFICATIONS:
*High Quality Electret Condenser Microphone :1piece
*Flexible Gooseneck :8mm (Total Length:320mm)
*Microphone Cord :3 meters
*In/Output Cord(w/8P Interconnecting Jack :70cm
and RCA type Jack)
*Matching Output Impedance :500 Ohms-100K Ohms
*Output Voltage :0 - 50mV (RMS)
*Power Voltage :DC 12V - 15V
*The Size of Switch Box :44(H) X 38(W) X 67(D)mm
*Weight :About 240g


PDF